Cwm Hill - Under the Thatch, New Moat, near Narbeth, Pembrokeshire, West Wales
Self-catering - Sleeps 2
Welcomes adults, dogs,


Average Rating from 1 reviews: 5.00
Review
Review No. 1 of 1
Recommended by:
Sarah S from Warwick
Our party:
Stayed:
4 Nights
September - 2012
Wanted:
Relaxing
Walking
Touring
Beach / Sea
Local Food
Summary:
"Traditional pink croglofft cottage"
A beautiful but simple traditional Pembrokeshire cottage restored from total dereliction in 2011. In a very quiet and remote location, yet close to all you could want to see or visit in Pembrokeshire.

The cottage is a traditional croglofft, with a wood burner and open fire, a well appointed kitchen and shower room and an 18th century antique bed. There is a steep-ish open staircase to the sleeping area and low beams, but seeing the stars through the skylights at night is magical.

This property is dog-friendly and you can walk for miles right from the front door using local footpaths.
Specifically Recommend:
Perfect for couples and a dog.
Local Gems:
Bosherston Lily Ponds and the Stackpole Estate.

Tenby

St Davids and the Cathedral
Sarah S, Wellesbourne, Warwick - Oct 2012
Overall Rating:

| | |
| --- | --- |
| Comfort | |
| Cleanliness | |
| Meals / Kitchen | |
| Bathroom Facilities | |
| Quality Of Items | |
| Useful Info | |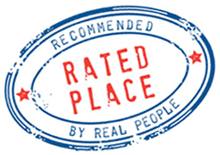 Recommended on 01/10/2012
By Sarah S from Warwick

If you found this review helpful, please
like
Rated Places on facebook.
Copyright © 2018 rated-places.com | All rights reserved |
Design by Lightbulb
|
Website
by Firestorm Online Ltd | on 16 December 2018